The Batmobile
of the 1940's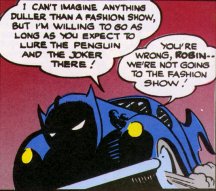 This panel is from Knights of Knavery, BATMAN #25, 1944. Art by Jerry Robinson & Gerry Roussos, coloring by Anthony Tollin.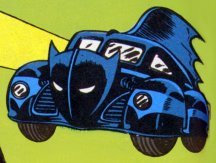 This is how the Batmobile looked in The Origin of Batman, BATMAN #47, 1948. Art by Bob Kane & Lou Schwartz, coloring by Adrienne Roy.





























From the very beginning, the creators of Batman (Bob Kane and Bill Finger) realized that their hero would need a vehicle to move quickly around Gotham. The vehicle could have been any type of automobile, but there was already an obvious example of what it should be. The Green Hornet, a masked crime fighter appearing on the radio, had a special car called the Black Beauty. The Black Beauty appeared to be simply a luxury sedan on the outside, but it was a unique vehicle equipped with a hidden arsenal of weapons.
But where the Green Hornet strove for an unobtrusive appearance in both his costume and his automobile, the Batman had purposely designed his costume to strike fear into criminals and he did the same with the Batmobile. The identity of the Batmobile's driver is instantly recognizable from a mere glimpse of his automobile. The first Batmobile was distinguished by its prominent batwing-shaped fin and the foreboding bat-mask that dominates the front end of the vehicle. Although this general arrangement remained constant for the first two decades of the Batmobile's existence, the details of its appearance changed depending on the artist drawing it. The two pictures at the right show the most common combinations of details. The top version with the open front wheel wells and bumpers may be the one most frequently seen, but the lower version with the enclosed front wheels and no bumper appeared pretty often, too. Sometimes the stripe on this version was red, especially in the newspaper strips. The Batmobile of the 1940's was most often depicted as a powerful coupe but it occasionally was shown as a sedan-sized car and I have seen one example that had four doors.



---
Model of the 1940's Batmobile
1/25 Scale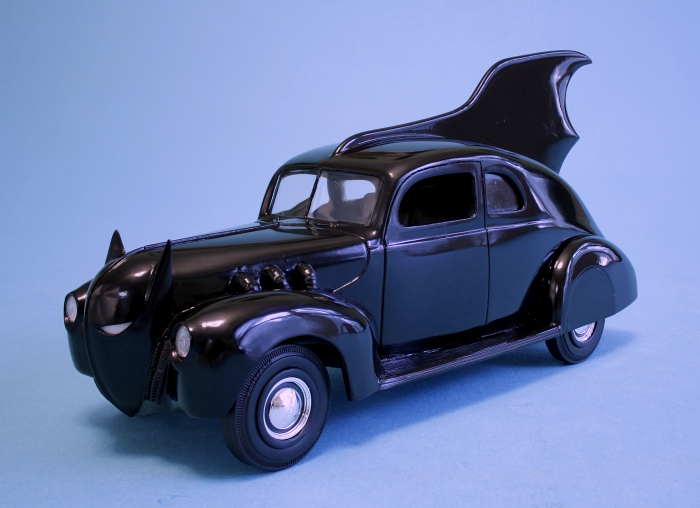 Click here for more pictures and description of the construction process for the Batmobile.
---

Back to the Batman Model Page
The character of Batman, the emblems and the comic book panels on these pages are the property of DC Comics. All text and photographs are ©2001-2013 Dan Thompson, except where otherwise noted. This homepage is not intended to infringe on the copyright of DC Comics to its characters, but was created out of gratitude to all the talented writers, artists, and editors who created the Batman.
---