The Batmobile
of the 1990's

I titled this page The Batmobile of the 1990's, but this Batmobile actually made its first appearence in 1989 in the movie Batman, directed by Tim Burton and starring Michael Keaton and Jack Nickalson. The movie created a very dark world in which the Batman was a psychologically tortured vigilante. However, it did not strip Batman of his equipment and gadgets; quite the contrary, it gloried in them. The primary star in this collection of "toys" (as the Joker calls them in the film) is a redesigned Batmobile. This Batmobile is a long, low slung machine that projects an unmistakable impression of power. It is an odd combination of design elements. Its 1950's style jet turbine engine intake is flanked by fenders from a 70's era Le Mans race car. It's rear end is like a 30's Bugatti sports car, while its rear tires could have come off a dragster. It brings back the large turbine exhaust from the Barris Batmobile of the 60's and its fins are massive exaggerations of the fins from that same car. Somehow, all these disparate parts fit together and work. This car looks like a Batmobile.
The same design was used in the second Tim Burton movie, Batman Returns, in 1993, so it does represent the most recognizable Batmobile for the first half of the 1990's.


---
Model of the 1990's Batmobile
1/25 Scale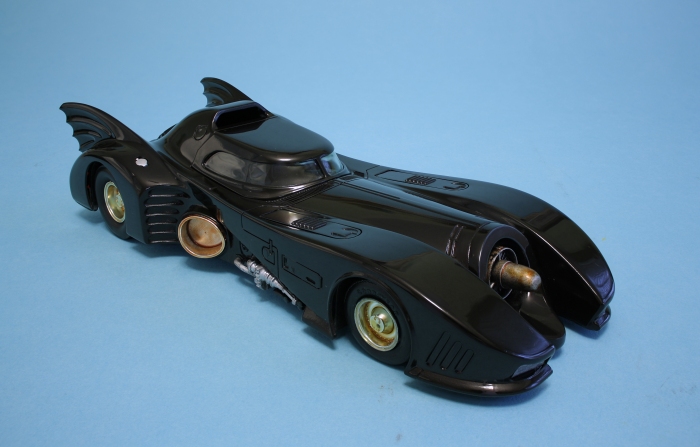 Click here for more pictures and description of the construction process for the Batmobile.
---

Back to the Batman Model Page
The character of Batman, the emblems and the comic book panels on these pages are the property of DC Comics. All text and photographs are ©2001-2013 Dan Thompson, except where otherwise noted. This homepage is not intended to infringe on the copyright of DC Comics to its characters, but was created out of gratitude to all the talented writers, artists, and editors who created the Batman.
---