| | |
| --- | --- |
| | Batman & Captain America (1996) |

It's January, 1945, and the Red Skull and the Joker have teamed up to threaten Gotham with a nuclear bomb. Naturally, Batman, Robin, Captain America and Bucky must join together to battle this menace. It's a cool World War II tale that features the best DC and Marvel have to offer.

In his "Elseworlds" Batman/Captain America cross-over story, John Byrne found a neat solution to the problem of having the distinctive "batmask" on the Batplane and propellers, too. He made it a twin engine plane. This unique Batplane is used extensively throughout the story.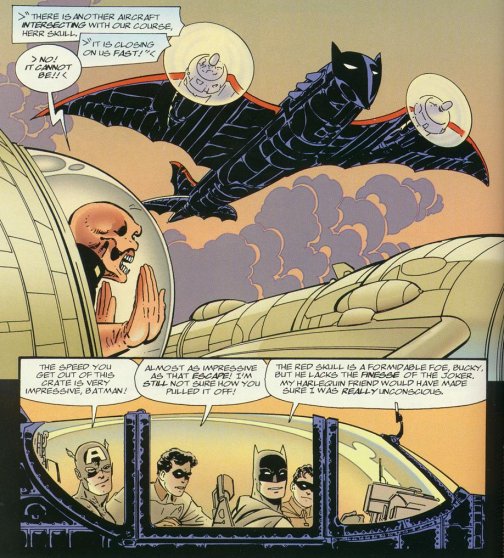 ---

Back to the Batmodels Page
The character of Batman, the emblems and the comic book panels on these pages are the property of DC Comics. All text and photographs are ©2002-2007 Dan Thompson, except where otherwise noted. This website is not intended to infringe on the copyright of DC Comics to its characters, but was created out of gratitude to all the wonderful writers, artists, and editors who created the Batman.
---