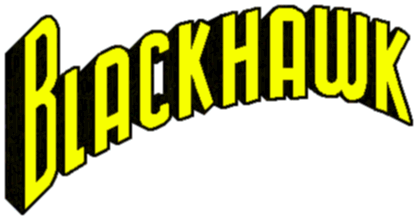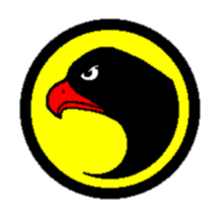 Biographies of Dick Dillin and Chuck Cuidera

From Blackhawk No. 196, May 1964.
| | |
| --- | --- |
| | Graduation brought him back to Watertown. As his reputation grew, he easily won assignments for portraits and magazine illustrations. But Dick sought a more exciting outlet for his imaginative talents, and this he found in comic books. Editors snapped up his samples, gave him jobs that included every type of feature. In BLACKHAWK, he found the most satisfaction, a feeling mutually enjoyed by countless thousands of fans. |
Today, when he is not hunched over his board in a studio in New York's upper Westchester, Dick fans the artistic flames in his teen-age offspring, who show unusual ability, hikes through the countryside, reads, or tinkers with his elaborate hi-fi equipment.

Chuck Cuidera is a native of Newark, N.J., where his athletic prowess (a four-letter man) at East Side High was surpassed only by his artistic ability, recognized by the award of several art scholarships. He graduated from Pratt, the famous art institute, to join the 36th Infantry Division's 143rd Regiment as a commando. At Paul's Point, off Martha's Vineyard, Chuck rescued 40 GIs when their boat capsized during a GHQ problem. For this heroic act, he was given the Soldier's Medal and the chance to fulfill his hope of switching to the Air Force. By war's end, he had elevated himself to the rank of captain with the 8th Air Force.
| | |
| --- | --- |
| | An underwater enthusiast, Chuck was one of the first SCUBA divers on the east coast and did much to promote the sport. He designed and built the first quick-release weight belt, a vital safety factor in SCUBA diving. He also taught skin diving and SCUBA at many New Jersey Y's. Chuck's quest for adventure has lured hi into other areas: field archery, riflery, sailing, fishing and surfing. |
His family are chips off the old Chuck. Not only do his son and two daughters follow in their father's flippers, but each is an outstanding art student as well. Not long ago, Chuck designed a new plane for the Blackhawks which could take off vertically and hover like a helicopter thanks to fan ducts built into the wings. This imaginary plane became an actuality recently when a prominent aircraft manufacturer announced construction of a similar plane, soon to make its initial experimental flight.
---

Back to Biographies of Blackhawk creators page


All characters, pictures, and related indicia on these pages are the property of DC Comics. All text is ©1998-2001 Dan Thompson, except where otherwise noted. This homepage is not intended to infringe on the copyright of DC Comics to its characters, but was created out of gratitude to all the wonderful writers, artists, and editors who created the Blackhawks.