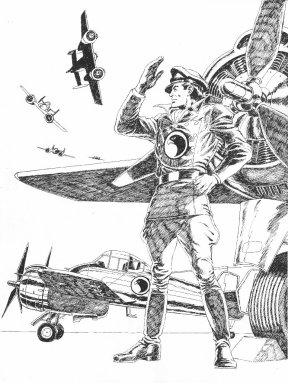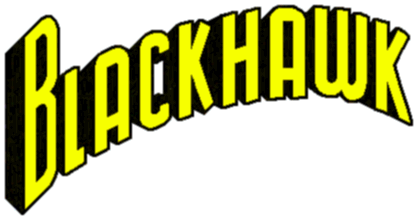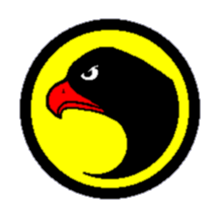 Dave Cockrum Gallery: Unpublished Portrait
This drawing was done by Dave for an individual fan in thanks for assistance with research on another series. I believe this is the first time it has been made available in any form to Blackhawk fandom. I like it a lot. It is a great pose for Blackhawk and, as a modeler, I appreciate the near perfect depiction of the Blackhawks' Skyrockets. This is probably the best drawing of the XF5F-1 in Blackhawk livery I've seen. I don't know if it was his intent, but I think Dave has done an excellent job of capturing the spirit of the best of the early covers. Look at Modern #60 or Blackhawk #14, for a comparison (though Dave got the Skyrocket's three-bladed prop and landing gear door correct, which the artist of Modern #60 did not).
Click on the image to see a larger version (about 230 KB).

---

Back to Blackhawk Main Page
---
All characters, pictures, and related indicia on these pages are the property of DC Comics. All text is ©2000 Dan Thompson, except where otherwise noted. This website is not intended to infringe on the copyright of DC Comics to its characters, but was created out of gratitude to all the wonderful writers, artists, and editors who created the Blackhawks.
---