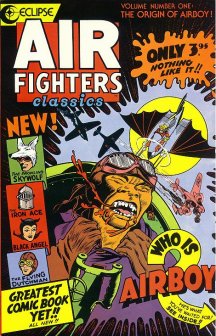 Recommended
Reading
Airfighters Classics
Published by Eclipse Comics, 1987
This series reprints the original Hillman Periodical's Airfighter comics that made their first appearance in 1942. The star of Airfighters was, of course, Airboy, but it also included such classic characters as Skywolf, Iron Ace, Black Angel and the Flying Dutchman. These contemporaries of the original Blackhawks provide plenty of hard hitting aerial action. Of course, the stories are full of the racial stereotypes that were common in the period. The interior art is reproduced in black and white. The covers, as you can see from the sample at right, were in glaring color.
Eclipse published six issues of Airfighters Classics. They are a great way to collect and read some Golden Age air combat comics.


---

Back to Blackhawk main page
All characters, pictures, and related indicia on these pages are the property of DC Comics. All text is ©1998-2001 Dan Thompson, except where otherwise noted. This homepage is not intended to infringe on the copyright of DC Comics to its characters, but was created out of gratitude to all the wonderful writers, artists, and editors who created the Blackhawks.
---