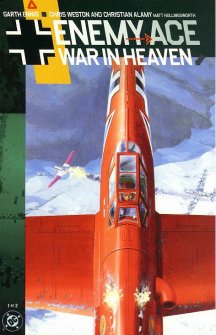 Recommended
Reading
Enemy Ace: War in Heaven
April 2001
Garth Ennis, writer; Chris Weston, Christian Alamy, and Russ Heath, artists; Bill Oakley, letterer; Matt Hollingsworth, colorist/separator.
Enemy Ace is Baron Hans von Hammer, the "Hammer of Hell." He was a Silver Age creation of Bob Kanigher and Joe Kubert, the team responsible for creating Sgt. Rock and so many other of DC's classic war comics heroes. Von Hammer was different in that he was a German ace of WW I. Most other comic book war stories were told from the "good guys" viewpoint. The original stories were so welll written and illustrated that they made a great impression. The characters in the Silver Age war comics were nearly always more complex than those in the superhero books of the same period, and Enemy Ace went beyond even that standard. Von Hammer hated war but was so good at it that he was drawn into the sky against his will. He represented both the best and worst of war in one person. Enemy Ace got its own title for a short time and the character has appeared in specials and in guest shots in other titles on a regular basis since.
The latest addition to that line is War in Heaven, a two issue limited special edition series (i.e. 48 pages in each issue with heavy covers and high quality paper and printing). The story tells how Baron Von Hammer, a veteran ace of WW I, is called out of retirement during WW II to take command of a Luftwaffe unit outside of Leningrad. Hammer, the epitome of pilots, quickly adapts to flying Me 109s and demonstrates in the air why he is an ace. But all is not well on the ground. He has trouble both from Nazis and Russians. I had not read anything written by Garth Ennis previous to this (he is well known for his Preacher series), but I was very impressed with the story here. It is gritty, realistic, believable and true to the character. Far from glamorizing warfare, it shows the conflict around Leningrad as brutal and ugly (there are a few scenes of extremely graphic and grisly violence, typical of Ennis' work). But there is honor, too, in some of the characters.
The artwork was done by different artists in the two volumes of this limited series. In the first volume, I thought the art was fantastic, simply some of the best I have ever seen in a comic book. Technically, it is flawless. The aircraft look almost photographically accurate, though the artist is free to put them into situations that few photographers could ever hope to capture. The battle scenes are exciting and confusing, as they should be. CLICK HERE to see a sample interior page showing an aerial battle between Luftwaffe Me 109s and Russian Petlyakov Pe-2 light bombers (about 175 Kb, but worth the download time), and note the emblem on the nose of Von Hammer's blood red Me 109. But it's not just aircraft, everything is drawn beautifully. The scenes are dramatic or quiet, as needed by the story. The characters are all true individuals and completely believable. The coloring is excellent and enhances the art. The second volume was done by Russ Heath and it, too, is very well done. However, I did not think the aircraft were drawn with the same level of realism as they were by Chris Weston in the first volume.
This is a truly outstanding air war story. I recommend it without reservation. I wish this team were doing Blackhawk
The original Enemy Ace stories are also worth reading, and not too difficult to find, though often at collector prices since they feature the work of Joe Kubert. Enemy Ace can be found mainly in Showcase and in Star Spangled War Stories , though he also appeared as backup stories in other titles. There were also several single issue specials by various artists, including the well respected graphic novel, War Idyll by George Pratt.


---

Back to Blackhawk main page
All characters, pictures, and related indicia on these pages are the property of DC Comics. All text is ©1998-2001 Dan Thompson, except where otherwise noted. This homepage is not intended to infringe on the copyright of DC Comics to its characters, but was created out of gratitude to all the wonderful writers, artists, and editors who created the Blackhawks.
---