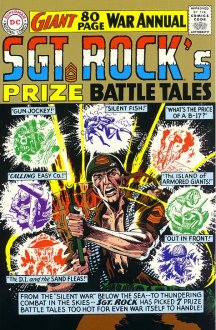 Recommended
Reading
Sgt Rock's Prize Battle Tales
2000
Writer - Robert Kanigher
Artists - Joe Kubert, Russ Heath, Ross Andru, Mike Esposito, and Irv Novick.
This is a reprint of a DC 80-page Giant that originally was produced in 1964. Just look at the list of artists above and you know this is the real stuff. These are classic war comic stories, all written by Bob Kanigher, and illustrated by the best in the business. Of the marvelous stories in this collection, two of my favorites are Gun Jockey! and What's the Price of a B-17? It also includes one of the weird war stories that DC specialized in, The Island of Armoried Giants, that has a T-Rex battling a Japanese tank. And, of course, there is Sgt Rock and Easy Company. But all the stories are excellent and it's great to have them printed in brilliant color on high quality paper. They never looked better.
If you enjoy war comics, and I expect most Blackhawk fans do, this is a must have book.


---

Back to Blackhawk main page
All characters, pictures, and related indicia on these pages are the property of DC Comics. All text is ©1998-2001 Dan Thompson, except where otherwise noted. This homepage is not intended to infringe on the copyright of DC Comics to its characters, but was created out of gratitude to all the wonderful writers, artists, and editors who created the Blackhawks.
---