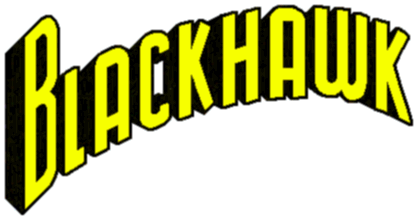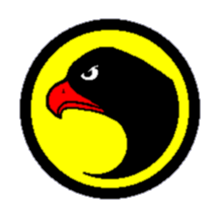 Blackhawk Themes
If you aren't already familiar with the concept, a "theme" is a set of icons and graphics that change the look of your computer "desktop" by replacing the cursor, wallpaper and other graphics that appear on your screen with different ones. Usually, these are related by a common theme, thus the name.
With extensive help from my beautiful and talented wife, Liana, I am pleased to present a set of Blackhawk Themes that you may download and install on your computer. To give you an idea of what the theme will look like, here are some of the cursors and icons. Note that the cursors will be half this size on your desktop.
| | |
| --- | --- |
| | This is the main cursor. |
| | This turning War Wheel will appear when the system is busy, looking for a file for example. |
| | This cursor will appear when the system is working in the background. |
| | This icon will replace the My Computer icon. Other standard Windows icons will be repaced, also. |
| | And this is one of the wallpapers that can be used. There are three others, each with a different set of colors. Obviously, this is a much reduced version. The actual wallpaper is a large, high resolution graphic that will fill your screen, with room on the left for your application icons and across the bottom of the screen for the Start bar. |
To download the themes, click on the links below. These are zipped files, so you will need software like Winzip to uncompress them. When it asks you where to place the files, I recommend you use the path C:/Programs/Plus!/Themes/Blackhawk.


After you have downloaded and unzipped the files, move the *.theme files from the Blackhawk folder to the Themes folder (by clicking and dragging in Windows Explorer - for which, by the way, I think the Safari-mobile icon is especially appropriate). To load your theme, you will select it from the Themes function of the Control Panel (found in the Settings of the Start Menu). If you don't have a Themes icon in your Control Panel (I don't), then you can download this handy little program that will let you not only load themes, but edit them (so you can make your own).

Desktop Theme Viewer/Creator

Finally, if you want to go all out in making your computer a Blackhawk system, you can change the startup and shutdown screens. Download this zipped file:

Startup Zip file

You can save this to your Unzipped or Temp folder. Then run the Install batch file (by double clicking on the file). Save the Uninstall file somewhere you won't lose it in case you ever want to return to your original settings.

Good luck and I hope you enjoy your Blackhawk Themes!


---
Wallpaper
If you don't want to load a theme but would like to have a Blackhawk wallpaper on your computer, save the following files to your WINDOWS folder (directory). The images are sized for a 800x600 display. They are big files (470K) so be patient.
Cover of Blackhawk 105
Cover of Blackhawk 109
Cover of Blackhawk 139
Cover of Blackhawk 151
Cover of Blackhawk 159
Cover of Blackhawk 261
Blackhawks of Earth-X
---

Back to Blackhawk Home Page
All characters, pictures, and related indicia on these pages are the property of DC Comics. All text is ©1999 Dan Thompson, except where otherwise noted. This homepage is not intended to infringe on the copyright of DC Comics to its characters, but was created out of gratitude to all the wonderful writers, artists, and editors who created the Blackhawks.
---