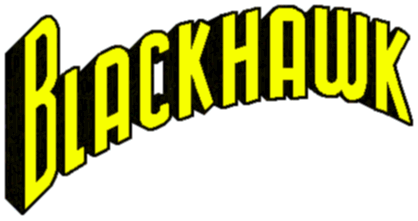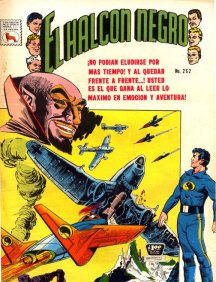 El Halcon Negro Issue No. 262
October 31, 1966
I don't have much information about this one. Bob Fulker, who provided the cover scan, doesn't read Spanish and can't translate the contents. Maybe one of our Latin American readers has a copy and can tell us more about it. It is apparent from the cover that this was one of the issues produced in Mexico by local artists and writers. The cover looks great and certainly makes me wish I could read the story. I am fascinated by the fact that the cover shows the Blackhawks flying the F7U Cutlass. The cover all shows Blackhawk in the unique costume that they wore in these Mexican created issues. I'd say the quality of the art displayed on this cover is equal to or better than the U.S. produced issues of the same period.
Click on the small cover at right to see a larger vesion.
CLICK HERE to see three interior pages from this issue, including one that shows the members of the Halcon Negro, with different names and no Chop-Chop.
Thanks to Bob Fulker for providing this issue.




---

Back to the Mexican Blackhawk Page

All characters, pictures, and related indicia on these pages are the property of DC Comics. All text is ©1998-2001 Dan Thompson, except where otherwise noted. This homepage is not intended to infringe on the copyright of DC Comics to its characters, but was created out of gratitude to all the wonderful writers, artists, and editors who created the Blackhawks.
---