FOREWORD: Apologia To Doc...
I hope the time is past when the publication of this story might cause you problems. I think it imperative that the world know not only the super-human side of you -- but the human side, as well.
The story which follows is a novelization of entries in a journal that can only have been yours. It was found by my own adventuring father somewhere in the Arctic. Dad never really knew what to make of the the entries. They were obviously written as fact...but seemed like just so much wild fiction. He had never read Kenneth Robeson's novels of your life.
I had. When the diary was passed to me, I took one look at the precision-fineness of the script and muttered "This is Doc Savage's own handwriting...or I'm Monk's uncle!"
And so it has turned out to be! There are many entries that are too personal for sharing with the multitudes...but some of the facts of your private life should be published!
I hope you don't mind...these revelations will only make us understand and love you more, Doc.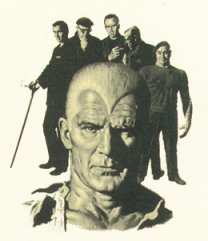 Photo of Doc Savage and friends

TAKE ME TO THE FIRST CHAPTER, PLEASE!