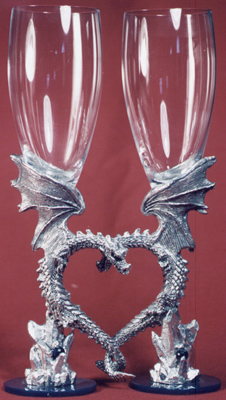 I had seen this pair of dragon toasting glasses in a catalog, showed them to Dan, but I didn't want to add to our expenses, so I pushed them out of my head.

With friend Sheila's help, Dan ordered them and had them at the reception to surprise me!

As you can see, the dragons are curved to look like a heart when set together with their tails entwined. Their eyes are gemstones, and there are pretty stones set into the base, too.

You can't tell from this picture, but the glass has a pretty blue quality to it, shimmering like bubbles in certain lighting.