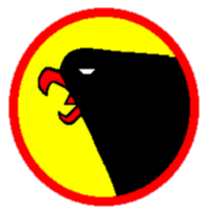 Book Two: Red Snow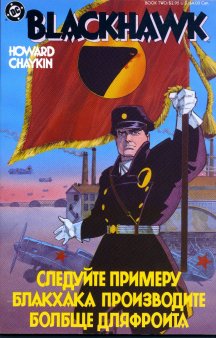 1987
Howard Chaykin, Steve Oliff and Ken Bruzenak
The story opens with a U-Boat captain dickering with the tramp steamer's captain for Bronski's car. In Germany, Blackhawk, Chuck and Chop Chop, in Luftwaffe uniforms, steal three Stukas and use them to drop propaganda leaflets. Reba MacMahon is making a deal with Senator Hightower, chairman of the anti-communist committee that had called Prohaska before it. And Sir Death Mayhew learns he has, at most, a month to live.
The U-Boat captain is killed while driving his new car off the ship by Reba and some French resistance fighters. She takes the car. Meanwhile, Janos Prohaska and Natalie Reed (no longer Natalia Gurdin) are arguing and getting interested in each other. We learn that he is an electronics genius who has built a television system for the Soviets and she is an aeronautical genius who was responsible for the complete redesign and improvement of the Soviet F5F-1. The Blackhawks finally appear as a team, making a show of their American patriotism, just in time to fly the Soviet built Skyrockets against a German fleet of Condor bombers sent to destroy the aircraft factory. The bombing raid is a cover for Mayhew's White Lions to kill the Blackhawks, but they are too late and barely escape with many wounded.
I found the plot too convoluted and murky to be very satisfying, even considering that it is the middle chapter of a three chapter story. The art was generally very good, with some great renditions of the German Signal magazine, but not as tight as Blood and Iron, especially in the drawing of the faces.
The cover for this issue says something in Cyrillic (the Russian alphabet). I have to admit a surprising lack of curiosity about what it says, but Dave Sikula was not so sanquine. He went to the effort of translating it, not an easy task since it apparently contains several typographical errors. Here's what he says, "So, to bring a too-long story to an end, my transation for the cover copy is 'Follow Blackhawk's example. Produce for the front.' I'm sure it comes from a wartime Soviet poster (it has that Socialist Realist look), but have been unable to locate the souce."


---

Back to Chaykin Blackhawk Index Page

All characters, pictures, and related indicia on these pages are the property of DC Comics. All text is ©1998-2001 Dan Thompson, except where otherwise noted. This homepage is not intended to infringe on the copyright of DC Comics to its characters, but was created out of gratitude to all the wonderful writers, artists, and editors who created the Blackhawks.
---