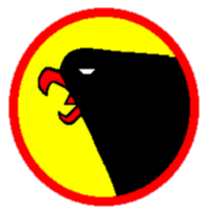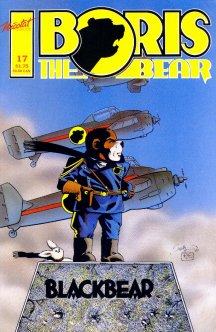 Blackbear: Blood and Irony
Boris the Bear #17, May 1988
James Dean Smith (co-plot and pencils), Steve Mattsson (co-plot and script), John Workman (letterer), Art Nichols (inker)
This is the only issue of Boris the Bear I have seen but, apparently, it was, or is, a book that specialized in parodies of well known comic books or genres. Certainly, this issue does an excellent job of skewering the pretentions of Chaykin's Prestige Format Blackhawk mini-series. I found the framing mechanism of Boris the Bear talking to his human friend Peter Summerton awkward and unconvincing, though presumably it was appreciated by regular readers of this title. The actual Blackhawk parody, however, was very well done. I particularly enjoyed the characters' discussion of why Chaykin's revisionist Russian origin for the Blackhawk's Skyrockets was unnecessary. And the chauvinistic attitude of Blackbear is a funny jab at the macho, vulgar Blackhawk in the Chaykin book. The cover is a nicely executed take-off on the title page of Blood and Iron. Lightweight but enjoyable.
More on Blackbear's F5F at the Blackhawk Aircraft page, plus the War Heel!


---

Back to Second Series Index Page

All characters, pictures, and related indicia on these pages are the property of DC Comics. All text is ©1998-2001 Dan Thompson, except where otherwise noted. This homepage is not intended to infringe on the copyright of DC Comics to its characters, but was created out of gratitude to all the wonderful writers, artists, and editors who created the Blackhawks.
---