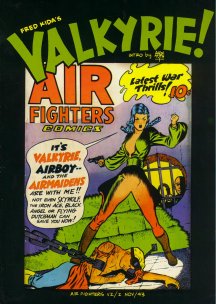 Recommended
Reading
Valkyrie
Published by Ken Pierce, 1982
Fred Kida, pencils; Bill Quackenbush, inks
Valkyrie made her first appearance in the Airboy story in the November 1943 issue of Airfighters Comics. Valkyrie led an elite Nazi squadron of all female pilots called the Air Maidens. But, under the influence of Airboy, she and her girls soon realized the folly of their ways and switched sides to join the Allies. Valkyrie teamed up with Airboy a half dozen times in the pages of Airfighters, all but one of which is reprinted in Ken Pierce's Fred Kida's Valkyrie!.
When Eclipse acquired the rights to the Hillman properties in the mid '80s and launched a new Airboy series, Valkyrie was resurrected, in her case, almost literally. Whereas Eclipse's Davy Nelson was the son of the original Airboy, the Eclipse story line revealed that Valkyrie had been frozen by a spell for over three decades. She played a prominent role in the entire run of the second Airboy series and was so popular that she was spun off into several miniseries under her own title. CLICK HERE to see a portrait of Valkyrie by Brian Bolland from one of those books (126 Kb).
The original Valkyrie stories feature a fair amount of aerial combat, but the later stories are mostly grounded. I like the character enough to enjoy them even when there aren't any airplanes involved.


---

Back to Blackhawk main page
All characters, pictures, and related indicia on these pages are the property of DC Comics. All text is ©1998-2001 Dan Thompson, except where otherwise noted. This homepage is not intended to infringe on the copyright of DC Comics to its characters, but was created out of gratitude to all the wonderful writers, artists, and editors who created the Blackhawks.
---