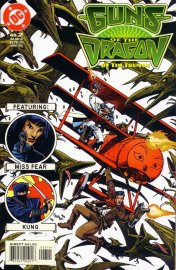 Cover of Guns of the Dragon #2, featuring
Miss Fear.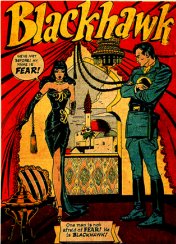 The original Miss Fear, as she appeared in
Blackhawk #13, 1946

.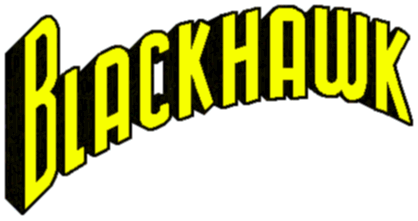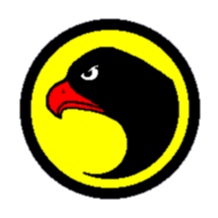 Guns of the Dragon
The first issue of this limited series was published in October 1998. Story and art by Timothy Truman, coloring by Johan Kalisz, separations by Jamison, lettering by Ken Lopez, and edited byh Pete Tomasi.
This interesting story opens in 1927 Shanghai, China. It uses a number of long absent DC characters like Baron Hans von Hammer, the Enemy Ace, Vandall Savage and Bat Lash, and some characters similar to early comics characters, like Biff Bradley. We also meet real life personalities like Mao Tse Tsung, General Chiang Kai-Shek and General Joseph W. Stillwell. The heroes are sent on a mission by Chiang and Stillwell to recover some legendary swords and dragons that may influence who ends up in control of China.
The connection to Blackhawk comes from two characters. In the saloon run by Bat Lash we are introduced to a young Chinese called Chop-Chop. It is not too big a reach to think that this is intended to be the Blackhawk's Chop-Chop. Unfortunately, the timing doesn't work very well. Generally, Chop-Chop's age at the beginning of World War II is assumed to be around seventeen, so in 1927 he would have been only five years old. The character in Guns of the Dragon appears to be older than that, though maybe not a lot. This could be Chop-Chop but it is a bit of a reach. Of course, this appearance is completely inconsistent with the Howard Chaykin continuity Chop-Chop, who was American born. So, from that perspective I like the idea that this is the Blackhawks' Chop-Chop.
The certain Blackhawk connection is made by the inclusion of Miss Fear. In this story, she is an agent of the Chinese communists, working directly for Mao. This is not inconsistent with her original appearance in Blackhawk. Also, as in her earlier appearances, she switches sides and aids the good guys when she sees that it is to her benefit. In The Steranko History of the Comics, he comments that "Miss Fear made a number of apperances (as an ally of the Blackhawks) in the grand tradition of Milt Caniff's Dragon Lady."
The Wold Newton Universe website lists this series as evidence that the Blackhawks exist as part of the Wold Newton Universe, a system based on the works of Philip Jose Farmer that manages to tie together nearly every fictional character ever created.


---

Back to Blackhawk Appearances Page
All characters, pictures, and related indicia on these pages are the property of DC Comics. All text is ©1998-2001 Dan Thompson, except where otherwise noted. This homepage is not intended to infringe on the copyright of DC Comics to its characters, but was created out of gratitude to all the wonderful writers, artists, and editors who created the Blackhawks.
---