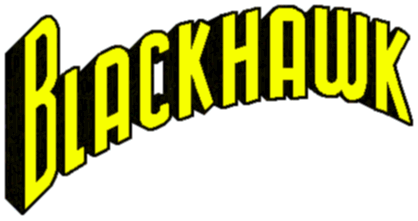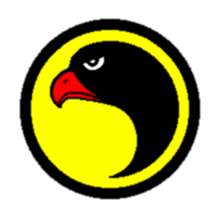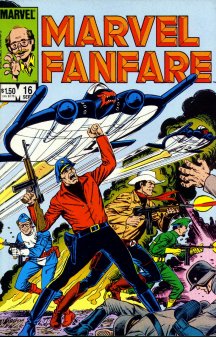 Marvel Fanfare No.s 16 and 17: Sky-wolf
Sep & Oct 1984.
Marv Wolfman, writer; Dave Cockrum, penciler; Joe Sinnot, inker; Andy Yanchus, colorist/letterer; Al Milgrom, editor; Jim Shooter, chief.
A two issue experiment by Marvel Comics. Set during World War II, like Blackhawk, the Sky-wolves were four men who flew modified, jet-powered F5U Flying Flapjacks. The leader was Skyler Wolf (Sky-wolf), a hot test pilot and natural leader. On his team were: Sidney E. Levine (The Gaff), a brilliant scientist who also created Hollywood special effects; Jesse Johns (Littlejohn), an escape artist; and Matt Slade III, son of wealthy industrialist Matt Slade, Jr., who funded and equipped the team. Of course, they were all excellent pilots in addition to their other skills.
In both name and composition, this team was obviously meant to recreate the original Skywolf. However, as that title owed it's lineage to Blackhawk, this one did too.
Both Marv Wolfman and Dave Cockrum had previously worked on Blackhawk, and they created a very workable and enjoyable story in these two issues. There was plenty of action and the kind of fantastic machines we would expect to see in Blackhawk as well. My only quibble is that the supporting characters were developed in more depth than the title character, Sky-wolf. Still, I would have been pleased to have seen more stories in this series, but these two are it.
CLICK HERE to see a painting of the Sky-wolves' F5U Flying Flapjacks, by Dave Cockrum.


---

Back to Blackhawk Imitator Page
All characters, pictures, and related indicia on these pages are the property of DC Comics. All text is ©1998-2001 Dan Thompson, except where otherwise noted. This homepage is not intended to infringe on the copyright of DC Comics to its characters, but was created out of gratitude to all the wonderful writers, artists, and editors who created the Blackhawks.
---