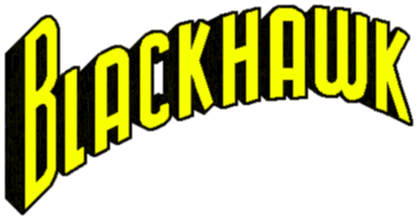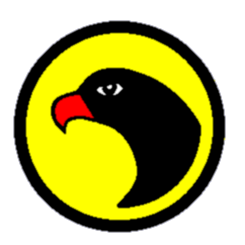 Lockheed F-90B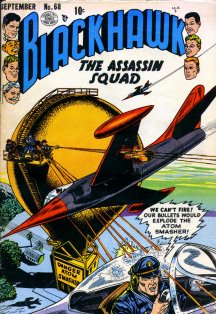 The Blackhawks' Lockheed F-90B appears
on the cover of No. 68, September 1953.

The Lockheed XF-90 made its maiden flight on June 6, 1949. For its planned role of long-range bomber escort, the XF-90 was designed to carry 1,665 gallons internally and in jettisonable wingtip tanks. It had ports for six 20mm cannons under the air intakes, but they were never fitted. The start of the Korean War forced the Air Force to concentrate on planes already in production and the XF-90 was not ordered.

In the comic book, this plane was always drawn as a single-engine plane, even though the actual plane had two engines. Most likely it was just easier to draw that way. But it seems reasonable that in the Blackhawk universe, they had the XF-90's notoriously weak engines replaced with a single much more powerful engine of their own design, thus producing the F-90B model of the aircraft. The Blackhawks flew the F-90B from 1950 to about 1955. The latter date is not exact because the F-90B evolved gradually into the F-90C in the pages of the comic book.

Specifications: Lockheed XF-90, long-range bomber escort fighter
Engines: two Westinghouse J34-WE-11's with afterburners (in the second plane), providing 4,000 lb. thrust
Wingspan: 40 feet
Length: 56 feet 2 inches
Height: 15 feet 9 inches

Empty and gross weights: 18,520 pounds and 27,200 pounds
Maximum speed: 665 mph in level flight at 1,000 feet
Cruise speed: 473 mph
Range: over 2.300 miles
Service ceiling: 39,000 feet.
Issue No. 54 featured an interesting comparison between the F-90B and its main adversary, the MIG-15. CLICK HERE for the Spanish version of this page (131 KB) as it appeared in El Halcon Negro No. 14.
CLICK HERE to see the XF-90's appearance in another comic book, Twin Earths.
CLICK HERE to see Dave Cockrum's painting of the Blackhawks' F-90s.


---
F-90B Model
1/72 Scale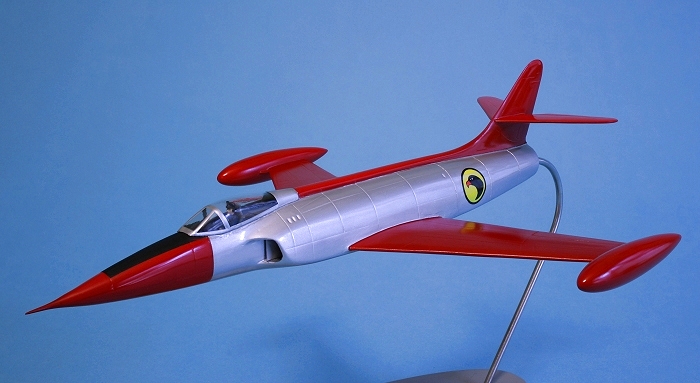 Click here for more pictures and description of the construction process for the Blackhawks' plane.





Sven Knudson's photo of the Lockheed F-90B at the 97 IPMS Nats
---

Back to Blackhawk Model Page
All characters, pictures, and related indicia on these pages are the property of DC Comics. All text is ©1998-2001 Dan Thompson, except where otherwise noted. This homepage is not intended to infringe on the copyright of DC Comics to its characters, but was created out of gratitude to all the wonderful writers, artists, and editors who created the Blackhawks.
---