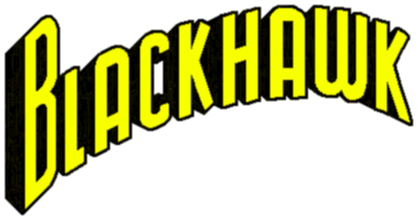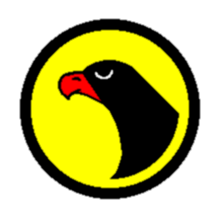 Death Patrol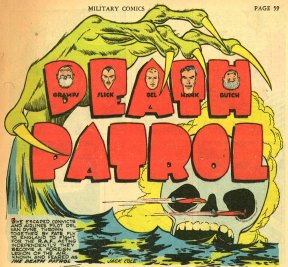 I had been describing Jack Cole's Death Patrol as "the first imitators of the Blackhawks." But it turns out it may be the other way around. At a recent comics convention, Chuck Cuidera, the creator of the Blackhawks, stated that Death Patrol came first and that Blackhawk was created to make a more serious version of it (see the History Page for more details). Keep this in mind while reading the (outdated?) commentaries that follow.
Death Patrol appeared in Military Comics along with the Blackhawks. In his History of Comics, Vol. 2, Steranko describes Death Patrol as "a tongue-in-cheek take-off on The Blackhawk series. Butch, Hank, PeeWee, Slick, and Gramps were ex-convicts hustled by Del Van Dyne to become 'The Foreign Legion of the Air.' Cole's usual nonsense prevailed." But the early stories were actually fairly grim, though they did have a lot of screw-ball characters that lent an air of weirdness.
Mikel Midnight contributed the following:
From Focus on: Jack Cole by Ron Goulart, Fantagraphics Books:
"Will Eisner owned 50% of the Quality titles National and Military and also acted as editor of the two. In that capacity, he hired Jack Cole to work for him. For Military, Cole wrote and drew Death Patrol. The star feature of the magazine was Blackhawk created by Eisner and Charles Cuidera. Though Death Patrol has been called an out-and-out parody of Blackhawk and his flying crew, that isn't the case. In the first place, Eisner says he came up with the idea and that the strip was intended as a variation, not a burlesque. This was in keeping with Arnold's backup policy of 'constantly pushing to get duplicate features' [Will Eisner contends that Cole concocted Midnight as a deliberate Spirit simulacrum at Arnold's behest]. And Cole handled the strip in his best straight manner.
"Had it been a spoof, it wouldn't have been so grim. The group comes by its name because in each early adventure one of them gets killed. It dealt with 'five convicts and one, Del Van Dyne, former airline pilot, thrown together by fate. They fly to England and fight for the RAF! Acting independently, they become a foreign legion of the air: THE DEATH PATROL, most daring of all British warbirds!!' ... While Arnold liked the feature he wasn't happy about characters getting bumped off each month. He later recalled that 'I raised hell' and got the practice stopped.
"Cole only turned out three episodes before relinquishing the feature to David Berg. This is the same Berg who now does the bland suburban stuff for Mad, and yet it isn't. Back then he had a loose, animated cartoon style that made his Death Patrol stories look like wild, hallucinatory Looney Tunes. After Berg, the Patrol took a vacation for several issues and then returned in #20. They returned as clowns, pure and simple, playing everything for laughs. Cole returned, too, for a few more go-rounds, but never matched his earlier work."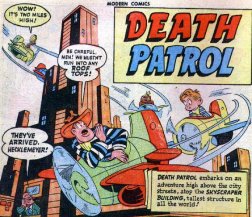 After Cole and Berg, the strip was taken over by Al Stahl. A sample panel from his work is shown here. Perhaps the strip was considered humorous by the audience at that time, but in the samples I've seen the comedy is dated and just not very funny.
Death Patrol artist and writer, Dave Berg, died on 17 May 2002. Mark Evanier, a Blackhawk writer, wrote the following about Berg: A child prodigy, Berg won art scholarships when just a boy and got into comic books about the time comic books began appearing. His earliest efforts were for Will Eisner's studio. Eisner hired him to ink backgrounds and, within weeks, Berg was writing and drawing his own stories. One -- Death Patrol -- drew great praise, including a fan letter from a kid named Wally Wood. Later, when folks were calling Wood one of the great comic artists, he would cite that strip and Berg's work as a major influence. Working at Eisner's, Berg became friendly with other artists, including young Al Jaffee, who introduced him to a circle that included Harvey Kurtzman, Will Elder and others who (along with Wood) would later form the nucleus of Mad.



---

Back to Blackhawk Imitator Page
All characters, pictures, and related indicia on these pages are the property of DC Comics. All text is ©1998-2001 Dan Thompson, except where otherwise noted. This homepage is not intended to infringe on the copyright of DC Comics to its characters, but was created out of gratitude to all the wonderful writers, artists, and editors who created the Blackhawks.
---