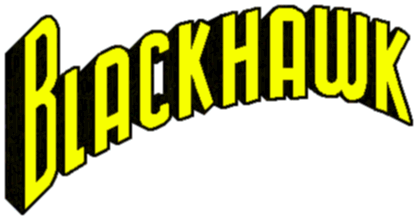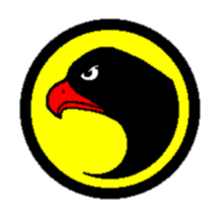 Who's Who: Charles N. (Chuck) Cuidera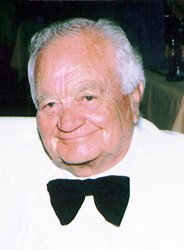 A recent photo of "Chuck" Cuidera,
courtesy of Charles L. Cuidera.

Chuck Cuidera is a native of Newark, N.J., where his athletic prowess (a four-letter man) at East Side High was surpassed only by his artistic ability, recognized by the award of several art scholarships. He graduated from Pratt, the famous art institute. After leaving Pratt, he worked for awhile as a pictorial illustrator, but found satisfying postions hard to come by. Through a former classmate from Pratt, Chuck started at Fox Features, where he worked with Joe Simon and Jack Kirby. Later, he moved to Busy Arnold's Quality comics. There, he made his most significant and enduring contribution to the field of comics witht the creation of the Blackhawks. Along with Bob Powell, who wrote most of the scripts, Chuck turned out eleven issues of Blackhawk before he left to join the service.

He began his war-time service in the 36th Infantry Division's 143rd Regiment as a commando. At Paul's Point, off Martha's Vineyard, Chuck rescued 40 GIs when their boat capsized during a GHQ problem. For this heroic act, he was given the Soldier's Medal and the chance to fulfill his hope of switching to the Air Force. By war's end, he had elevated himself to the rank of captain with the 8th Air Force.

After the war, Chuck returned to Quality where he again worked on Blackhawk. When Quality sold the title to DC, Chuck and Dick Dillin, who had joined Chuck on Blackhawk's art team, went with it.

An underwater enthusiast, Chuck was one of the first SCUBA divers on the east coast and did much to promote the sport. He designed and built the first quick-release weight belt, a vital safety factor in SCUBA diving. He also taught skin diving and SCUBA at many New Jersey Y's. Chuck's quest for adventure has lured hi into other areas: field archery, riflery, sailing, fishing and surfing.

Chuck retired from comics in the late '60s and began a new career as a city planner in New Jersey. He eventually retired from that as well, and spent the remainder of his life with his wife in Florida.

It is with much sadness that I report the death of Chuck Cuidera on 25 August 2001. Mark Evanier has written a fine eulogy for the creator of Blackhawk.


---
Charles L. Cuidera, Chuck's son, recently sent me the following: "I just received a complimentary copy of Comic Book Marketplace (*Volume 2, No. 68; April/May 1999) which has, as a featured article, the interview I believe I mentioned in my last message. I Created Blackhawk!...Will Murray interviews the controversial Chuck Cuidera.
"I believe the interview was initiated by David Siegel (*San Diego Comic-Con), and conducted by Will Murray in January of 1999 for Gemstone Publications Inc. (West) (*located in Coronado, CA, a community of San Diego)
"It's about eight pages in length, complete with 'graphics' and other 'supplementary information' (*e.g. I was unaware that there was a serialized Blackhawk Radio Program broadcast by ABC! It first 'aired' on September 20th, 1950, and was broadcast every Wednesday evening (*5:30p.m.) through Jan. 3, 1951.)
"I'd say 'controversial' is probably a good choice of adjectives, to describe this article! Although Dad is quite gracious with praise for some of his former colleagues, he is brutally honest in his recollections of a number of 'those' he deems posers.
"Here's a quote from the interview introduction: 'What follows is salty, opinionated and controversial. CBM has elected to let Cuidera's comments stand or fall on their own merits. By publishing his recollections, CBM in no way endorses or takes sides in any disputes Cuidera has had with other comic professionals.' "
Editor's Note: I have also conducted an interview with Mr. Cuidera which you can find at An Interview with Chuck Cuidera
---

Back to Blackhawk Creator's Page
---
All characters, pictures, and related indicia on these pages are the property of DC Comics. All text is ©1998-2001 Dan Thompson, except where otherwise noted. This homepage is not intended to infringe on the copyright of DC Comics to its characters, but was created out of gratitude to all the wonderful writers, artists, and editors who created the Blackhawks.