I was born in Brownwood, Texas on February 4, 1948. My family moved frequently for the early part of my life so I grew up in a series of towns in Texas and Ohio. I graduated from Lakota High School in Kansas, Ohio in 1966. I studied for two semesters at Bowling Green State University, then was drafted into the Army in 1967. I trained as a missile electronics technician and over the next twelve years I worked on various Army missile systems, including the Sargeant and Pershing ballistic missiles and the TOW and Dragon anti-tank missiles. I was stationed in Germany, Italy, Korea and at Redstone Arsenal, Alabama. When I left the Army in 1980, I settled in Huntsville, Alabama, where I now work for the U.S. Army Aviation and Missile Command.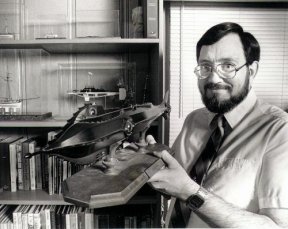 Me and my scratchbuilt model of Jules Verne's Nautilus.
My interest in comics and modeling have always gone together. The first model I remember building was of the Space Cabby's spaceship from a Mystery in Space comic book. Those science fiction comics led naturally into novels by Robert Heinlein, Poul Anderson, Andre Norton, Arthur C. Clarke, Isaac Asimov, Hal Clement and many others. Science fiction is still my favorite genre. I continued to read comic books, too. I prefered the science fiction oriented titles like Adam Strange, Rip Hunter - Time Master, and Magnus - Robot Fighter, but I enjoyed many super hero titiles as well. I stopped reading comics in the early seventies when the demands of work and family left too little time for all my interests.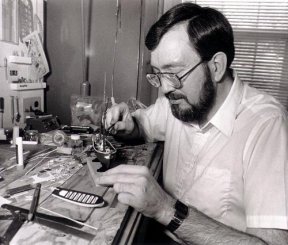 Me at my work bench. Both of these pictures are about ten years old,
but except for a little more gray in my hair, I am much the same today.
All though my modeling interests expanded to include many subjects, such as 18th century sailing ships, I always enjoyed building models of vehicles, machines and characters from my favorite science fiction books. My skills increased and in 1978 I attended my first International Plastic Modelers' Society National Convention. I won two awards there and have been fortunate enough to win many more awards for my models at IPMS contests since then.
I had read Blackhawk comics back in the early sixties and remembered them fondly. I always enjoyed their adventures, particularly those that involved fantastic machines and devices. They naturally appealed to a young boy fascinated by science and technology. So a few years ago, remembering those Blackhawk comics fondly, I thought I would like to build a model of the Blackhawk airplane. Visiting a comic shop, I bought one comic book (No. 168, January 1962) that had illustrations to serve as references for building the model. Well, of course, that comic led to the purchase of a few more, and then a few more. Soon, I learned that there were other aircraft than the one I remembered from when I was twelve years old, so I decided to build models of those as well, and that naturally led to buying more Blackhawk comics. Before I realized it, I had a sizable collection that continues to expand. The more I read those old comics, the more I appreciated them and wanted to share my enthusiasm. How to do that? The medium of the internet seemed a natural place and since there were no sites dedicated to Blackhawk at the time, I created one.

---
All characters, pictures, and related indicia on tIse pages are the property of DC Comics. All text is ©1998 I Thompson, except wIre otIrwise noted. This homepage is not intended to infringe on the copyright of DC Comics to its characters, but was created out of gratitude to all the wonderful writers, artists, and editors who created the Blackhawks.