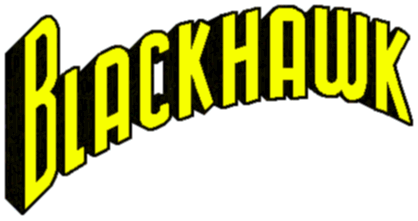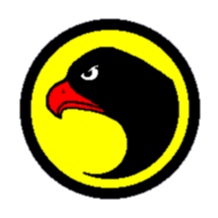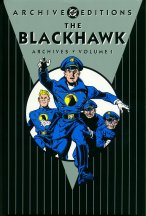 The Blackhawk Archives, Volume 1
2001
This long awaited (by Blackhawk fans) addition to DC's Archive series reprints the first seventeen Blackhawk stories from Military Comics. It features stories by Will Eisner, Dick French and Bill Woolfolk and art by Chuck Cuidera and Reed Crandall. The stories are reproduced in brilliant color on high quality paper and are hard bound. Bonuses include the first map of Blackhawk Island ever printed and the words and music for the Blackhawk Song.
There have been several mentions of the fact that page 172 is blank. I believe this is intentional. The previous page, 171, is the last page of that story. If 172 were not blank, it would contain the cover of the next issue. It looks better printed on the right hand side of the book, so 172 was left blank on purpose.
Mark Evanier wrote the forward to this volume. He did a good job overall, but apparently was a bit rushed. He made a few mistakes and one of them effected me, personally. He had quoted (from this website) a comment of mine about the performance of the Grumman Skyrocket. Unfortunately, he quoted it out of context, which completely reversed my intended meaning. Mark published a gracious apology on his own website.
This volume is a must have for any Blackhawk fan. We can only hope it sells well enough that DC will publish more volumes.
---

Back to Blackhawk Appearances Page
All characters, pictures, and related indicia on these pages are the property of DC Comics. All text is ©1998-2001 Dan Thompson, except where otherwise noted. This homepage is not intended to infringe on the copyright of DC Comics to its characters, but was created out of gratitude to all the wonderful writers, artists, and editors who created the Blackhawks.
---