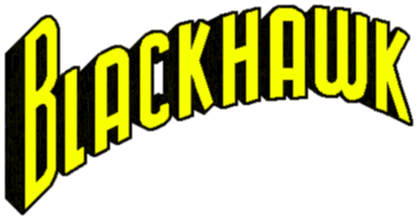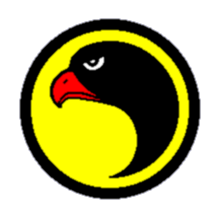 Grumman F5F-1 Skyrocket
The Blackhawks flew the Skyrocket from their first appearance in 1941 until about 1949. The unique design of the Skyrocket with its fuselage that started about a foot back from the leading edge of its wing made it easily recognizable and it became amazingly well known for a plane that never went into production. However, Charles Cuidera, the artist who created the Blackhawks, did not feel at all bound by Grumman's design. He immediately replaced the XF5F-1's rotary engines with generic inline engines and then proceeded to replace the twin tail with a more conventional, single tail. See Military No. 2.

The actual XF5F-1 Skyrocket was built by Grumman under a Navy contract for a high performance, twin engine, single-seat fighter. There was only one XF5F-1 built. It is common knowledge in the comics community that the F5F-1 was a failure but it was used for the Blackhawks because it looked cool. It does have a unique look, but it was not the failure commonly believed. The F5F-1's test pilot, "Connie" Converse, in 1980 recalled "the flying qualities for the XF5F-1 were good overall. The counter-rotating props were a nice feature, virtually eliminating the torque effect on takeoff ... single-engine performance was good, rudder forces tended to be high in single engine configuration. Spin recovery was positive but elevator forces required for recovery were unusually high. All acrobatics were easily performed, and of course forward visibility was excellent."1 In 1941, Navy pilots tested the Skyrocket in a fly-off against the Spitfire, Hurricane, P-40, P-39, XFL-1 Airabonita, XF4U, F4F, and F2A. LDCR Crommelin, in charge of the test, stated in a 1985 letter to George Skurla, Grumman president, "for instance, I remember testing the XF5F against the XF4U on climb to the 10.000 foot level. I pulled away from the Corsair so fast I thought he was having engine trouble. The F5F was a carrier pilot's dream, as opposite rotating propellers eliminated all torque and you had no large engine up front to look around to see the LSO (landing signal officer) ... The analysis of all the data definately favored the F5F, and the Spitfire came in a distant second. ..ADM Towers told me that securing spare parts ... and other particulars which compounded the difficulty of building the twin-engine fighter, had ruled out the Skyrocket and that the Bureau had settled on the Wildcat for mass production."2 It is true that the Skyrocket had some developmental problems, but no more than any other aircraft of similar radical design. The Navy was also concerned that the F5F was overweight, but this was more a problem of their expectations than reality. The Navy was used to comparitively small, light biplanes. The newer, high performance monoplanes were all overweight by that standard. The F4U Corsair weighed more than the F5F, even though it had a single engine compared to the Skyrocket's two.

Specifications are:
Span 42 feet
Length- 28 feet 8.5 inches
Height- 11 feet 4 inches
Max weight- 10,892 pounds
Max speed- 383 miles per hour at sea level
Landing speed- 72 miles per hour
Rate of climb- 4,000 feet per minute
Service ceiling- 33,000 feet
Normal range- 780 miles
Max range- 1,170 miles
Armament- two 30 cal machine guns and two 50 cal machine guns
Engines- two 1,200 horse power Wright Cyclone XR-1820-40/42
Fuel- 178 gallons

1Naval Fighters Number Thirty-One: Grumman XF5F-1 & XP-50 Skyrocket. By David Lucabaugh and Bob Martin. ISBN 0-942612-31-0, Steve Ginter, 1754 Warfield Cir., Simi Valley, CA 93063. 1995. Page 14.
---
F5F-1 Color Profiles
The F5F-1 appeared in several incarnations of the Blackhawk comic book, from it's original flight in Military Comics in 1941 to the last Blackhawk series in 1990. Over that nearly fifty year time span, the Blackhawks' Skyrockets sported several different color schemes and many different versions of the Blackhawk insignia. For color profiles of many (but not all) of those liveries, CLICK HERE. This page also includes downloadable graphics that can be used to make decals for the F5F-1 kits discussed below.
---
F5F-1 Model
1/72 Scale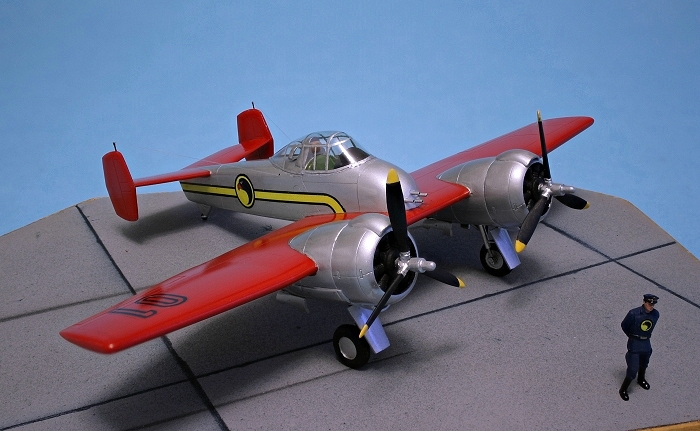 Click here for more pictures and description of the construction process for the Blackhawks' plane.






Sven Knudson's photo of the Grumman F5F-1 Skyrocket at the 97 IPMS Nats
Sven Knudson's photo of the Grumman F5F-1 Skyrocket at the 96 IPMS Nats
---

Bill Paul's 1/48 scale Blackhawk Skyrocket from the Minicraft kit.
---
Modeling Resources
1/72 scale F5F-1 Skyrocket kit - This kit may be out of production; the MPM website does not have it listed. Some distributors still have it listed but it may not be available for long, although it will probably show up from time to time on eBay.
1/48 scale F5F-1 Skyrocket kit - Minicraft has released a state-of-the-art, injection-molded Skyrocket kit. Bob Swift provides a scan of the box art and a photo of the sprue from the kit. There are a number of detail kits available to enhance Minicraft's Skyrocket kit, including:


Squadron also has a vacuformed canopy available.


From Eduard - a photoetched set containing two different instrument panels, engine wiring harnesses, etc. for $15.
1/7 scale F5F-1 Skyrocket weathervane - Okay, this isn't a model kit, but it's pretty cool.

---

Back to Blackhawk Model Page
All characters, pictures, and related indicia on these pages are the property of DC Comics. All text is ©1998-2001 Dan Thompson, except where otherwise noted. This homepage is not intended to infringe on the copyright of DC Comics to its characters, but was created out of gratitude to all the wonderful writers, artists, and editors who created the Blackhawks.
---