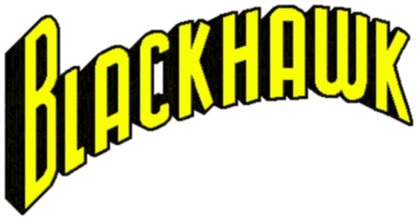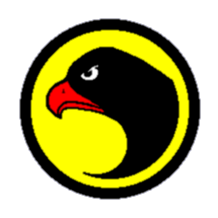 Evolution of the Blackhawk Emblem
---
DATE: 1939

REF ISSUE: Military Comics #1, Aug 1941 (Reprinted in Blackhawk #7, Oct 1989)

ARTIST: Chuck Cuidera

AIRCRAFT: PZL P-50a

DATE: 1940 to 1945

REF ISSUE: Blackhawk #251, Oct 1982 to #273, Oct 1984

ARTIST: Dan Spiegle

AIRCRAFT: Grumman F5F-1

---

---

---

---

DATE: 1941 to 1948

REF ISSUE: Military Comics #21, Aug 1943 to Modern Comics #69, Jan 1948

ARTIST: Reed Crandall (?)

AIRCRAFT: Grumman F5F-1

DATE: 1945 to 1950

REF ISSUE: Modern Comics #67, Nov 1947 to Blackhawk #31, Jun 1950

ARTIST: Reed Crandall

AIRCRAFT: Grumman F5F-1 and Republic F-84

---

---

---

---

DATE: 1950 to 1957

REF ISSUE: Blackhawk #68, Sep 1953

ARTIST: Dick Dillin (?)

AIRCRAFT: Lockheed F-90B

DATE: 1957 to 1964

REF ISSUE: Blackhawk #191, Dec 1963

ARTIST: Dick Dillin (?)

AIRCRAFT: Lockheed F-90C and VTOL F-105

---

---

---

---

DATE: 1964 to 1968

REF ISSUE: Blackhawk #221, Jun 1966

ARTIST: Dick Dillin (?)

AIRCRAFT: VTOL F-105 and Helicopter

DATE: 1966 to 1977

REF ISSUE: Blackhawk #248, Sep 1976

ARTIST: James Sherman

AIRCRAFT: VTOL Fighter

---

---

---

---

DATE: 1945 to 1950

REF ISSUE: Blackhawk: Blood & Iron, 1987 to Blackhawk #16, Aug 1990

ARTIST: Howard Chaykin and Rick Burchett

AIRCRAFT: Douglas C-47 and Sikorsky S-55
---
Alejandro Sergio Marí sent me an interesting observation. It seems the Argentine Naval Aviation arm used several emblems that strongly resemble the Blackhawk emblem. He offeres the following: "Respect to Blackhawks' markings - here in Argentina we received the Mexican Novaro editions (see International Publication of the Blackhawks), althought the series was never so successful like BATMAN, SUPERMAN or GREEN LANTERN. But some years after it was finished, that is by the mid/late '70s, it was organized a 3rd ESCUADRILLA AERONAVAL DE CAZA Y ATAQUE which adopted an insignia AMAZINGLY ALIKE BLACKHAWK'S. Of course, all veterans I've approached insist Argentine Naval Aviators never read comics either Stephen King - just Nietzche, Tolstoi or Borges (that is the so-called Victoria Ocampo Syndrome). Well, right now I remember Borges insisted on that he didn't know who was Maradona or didn't like soccer - until somebody advised him it had been invented by Britons. Then he began to praise the game. So I'm almost sure somebody took the basic subject from an old EL HALCÓN NEGRO issue (he surely kept in secret, to enjoy that guilty pleasure in the bathroom) but told to his mates it was the coat-of-arms of his family, the Iturriberry Goicochea González del Solar ("people like oneself")."


---

Back to Blackhawk Home Page
All characters, pictures, and related indicia on these pages are the property of DC Comics. All text is ©1998-2001 Dan Thompson, except where otherwise noted. This homepage is not intended to infringe on the copyright of DC Comics to its characters, but was created out of gratitude to all the wonderful writers, artists, and editors who created the Blackhawks.
---